Local Outreach Coordinator
I'm the poster child for the statement, "the apple doesn't fall far from the tree." I live at the same address listed on my birth certificate, a house my grandfather built in 1926. In between I lived in four other states, and that was mostly due to the fact that my father was also a pastor. I thank God for my Christian upbringing. But it was not until I was a high school senior that I completely embraced the privilege of following Christ no matter where that might lead. For me that led to training at what is now called the Master's College (B.A., M.Div.) and to further graduate studies at Talbot Theological Seminary (Th.M.). The first decade of my ministry was as a college and seminary professor where I taught theology, Bible, and Greek. The Seattle Mariners and Fellowship Bible Church started in 1977. My ministry at that point took on the exciting dimension of watching whole families learn the Bible and follow Christ. Nothing is more thrilling to me than to see the baton of truth carried from one generation to the next! I have fallen in love with this congregation and have raised my own family under its influence. My wife B.J. was raised on the mission field and is a huge part of my joy in ministry. My nine children include one in heaven and eight living children (four sons, four daughters). I also have seventeen grandchildren. Two of our children are war orphans from Liberia in West Africa. We also have a little lazy dog, Riddick (short for Ridiculous). My ministry duties include preaching and leading the church. I am committed to seeing a church that is both thinking and thoughtful—that cares for God's truth and lives it out in acts of sacrifice. For me personally, this takes the form of an annual trip to Liberia where I can encourage the lives of those ministering to the suffering. I love to see people everywhere go deeper with God. My intention is to serve the Lord at FBC until He calls me home (or as long as people can put up with me).
When I need to relax, I read a book, or do a puzzle, or walk through the woods at Pt. Defiance, or listen to music, or watch my kids and grandkids play sports or sing. I love writing, and designing things. My wife thinks I also relax when I get to do gardening.
I was raised in California by an Italian mother and a Portuguese father. We were Roman Catholic, and I was very involved in the church. My dad mainly worked as a brick layer, and my mom was a homemaker. My mother was diagnosed with a form of cancer called Hodgkin's disease when I was about seven and she was about 27 years old, and she suffered with that until she died at age 33. I was in the seventh grade at the time, and my life was deeply affected by her loss. She was a great mother and my spiritual influence in the Catholic Church. As she drew closer to death, she started asking more questions about her relationship with Christ. That's when an aunt and uncle who were believers came to visit her a couple of times near the end and led her to faith in Christ just two weeks before she died.
When growing up, I had always struggled in school, but from that time on, I didn't even try. At the end of my Junior year of high school, I too came to faith in Christ, but life was still complicated. After barely graduating from high school, I held various odd jobs, joined the Navy, and eventually was sent overseas to serve for two years on the island of Guam. This was during the Viet Nam conflict, and I was grateful to be able to serve. My time on Guam was a significant time of change for me. Because of the influence of some missionaries there, some friendships that I developed, and God's peculiar work in my life at that time, major changes were beginning. When I came back to the states, I had decided to go to college to possibly prepare for work with juveniles or church youth. I graduated from the school now known as The Master's College in southern California, and then moved up to Tacoma, Washington to attend Northwest Baptist Seminary.
While working on my Masters of Divinity degree, Bruce and I started talking and studying about the possibilities of starting a church in the area that might reflect both solid biblical principles, and reasonable cultural sensitivity in our local community. After finishing my three years at the seminary, a small group of us started a home Bible study that grew into Fellowship Bible Church. (See history of FBC for more on this.)
My main duties at FBC include counseling, discipleship, some teaching, and miscellaneous other duties. Since 2005 I have also enjoyed teaching a biblical counseling course at Northwest Baptist Seminary here in town.
When I'm not working as a pastor or adjunct professor, I enjoy a variety of activities including attending stage productions, concerts, doing some reading, and the thing I spend the most discretionary time on is various car projects. Restoring old Mustangs occupies much of my attention there. I am married to Diana, and we have three grown children, Ryan, Christina, and Adina, who all live in the Tacoma area.
When I think of the message or purpose I most want to be remembered by, I am reminded of something I read many years ago that still resonates with me. I would like to be remembered as being:
Biblical without being fundamentalistic
Spiritual without being withdrawn from the world
And engaged with the world without being conformed to it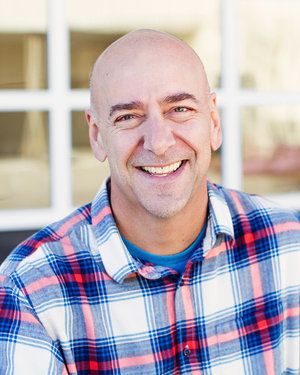 As a young man God graciously placed people in my life who shared Christ with me in many different ways. As a teenager I prayed a prayer to receive Christ as my savior, but it wasn't until after being defeated by bad choices that I realized Jesus must have first place and lordship in my life. This began a new lifelong process of learning how to give Jesus first place everyday in every part of my life. Living in and for Christ alone characterizes the stage upon which I am a player, living out each scene.
My education follows in step with my journey as a Christian. I struggled to make it out of high school and didn't graduate from college the first time I attended, but after surrendering to the Lord's leadership in my life I went back to college, which opened the door to go to seminary to gain a deeper grasp of God's word and learn the tools for study and ministry.
While at seminary, I met Earl Oliver, who is also on staff at FBC and we began a relationship centered on counseling practice. Our relationship led to the opportunity for an internship at FBC, part-time in December 2009, and eventually a full-time ministry position in January of 2011. I have been on staff at FBC ever since! My main responsibilities (spiritual formation and discipleship) reflect my passion for people, which includes helping people grow deeply connected to Christ and expressing that connection in continuing growth and service to God and others. I also have a passion for making sure new people who visit the body are welcome and connected to the fellowship so that all can experience the love and closeness of the body of Christ.
Randy and Tyla have been married since 1987 and have two grown children and 6 grandchildren, who all live in the Tacoma area. We enjoy having family and friends over for meals, conversation, and sometimes board games. We enjoy walks, hikes, reading, and especially camping with family. This past year we added a new member to the family, our maltipoo dog named Betty Lou.
I grew up in the northwest and have lived here my whole life. I first served on staff as a youth pastor for 8 1/2 years and I have been serving at FBC since December 2009.
Formal education consists of BS from Columbia Evangelical Seminary and an MDiv from Northwest Baptist Seminary (2009) now called Corban University School of Ministry.
FBC has been home for me since birth. In fact, before birth (my parents were the first two single members of FBC to get married to each other back in 1980). So if I were to list all the ways this church has blessed and served and enriched me and my family over the last 3+ decades, I'd get a hand cramp. Instead, I'll just say this church is family, and I'm grateful to be part of it.
I'm married to Shawna and dad to Moses, Calvin, Rosemary, and Junia. We live in Tacoma's central district (near 6th Ave), where we do a lot of family stuff. You can probably find us at the zoo, or parks, or looking for crabs under rocks at Ruston Way. I also enjoy running, writing, hunting, and going on dates with my wife.
My formal education consists of a BS from Seattle Pacific University (2011) and an MDiv from Corban University School of Ministry (2014). If you check out FBC, come say hi after the service – we usually sit on the right side, three rows from the front.
Born and raised in Tacoma, I am excited to serve Jesus here. I met Jesus in elementary school and grew up in church knowing him but didn't really choose to follow him until 1999. As a parent, coach, teacher, and now youth pastor, I am passionate about helping young men and women through the hard process of growing up.
I have been married to my beautiful wife Amy for 25 years. We have been attending FBC since 2002. We have 5, mostly adult, children (One is married in!) who have all been blessed by the youth group at FBC. This makes it such an honor for me to be able to serve Jesus through Impact since he has used it to richly bless my family.
I love to barbecue, travel, and read. I even enjoy most home remodeling projects. Oh, it's also really awesome to cross things off my Honey Do list. Am I right? Pizza is great, coffee rocks, but ice cream rules!
I love working in the church office as bookkeeper & administrative assistant! I've been here since 2002. My husband, John & I have been at FBC since 1987! We raised our sons Westin (now married to Kayla) and Michael here, and we have many dear friends and family here too. We've been so blessed by the high value the leaders here at FBC have placed on the Word of God and teaching through it verse by verse. When I'm not at the church office I enjoy spending time laughing with my family, going on walks, working in my yard, and traveling when I get the chance
My journey to FBC started before my husband Scott and I were married. We were college sweethearts and were looking for a place that taught the Word of God with passion and humility. 33 years later we are still here and are still being amazed at the teaching! Scott and I have the distinct honor of being the first couple to be married by Bruce Stabbert, one of our pastors. We have three wonderful children who are an incredible blessing to us.
I get the opportunity to help lead our music and worship ministry at FBC. This is near and dear to my heart as I have been involved in music my whole life. I graduated from college with a concentration in music and spent a year traveling the country in the drama/comedy/musical group "Jeremiah People". It was during this time that I learned how important music is in worship. We have a vibrant "intergenerational" church that loves to sing together and to worship our Lord and Savior Jesus Christ! Again, we are so blessed to have solid biblical teaching, and it is natural and fitting for our hearts to worship in response to all that He has done for us.
In my spare time, (do moms have spare time?) I love being outdoors, staying active, and hanging out with family and friends. Eating together is also high on the list!
"Oh come, let us sing to the Lord; let is make a joyful noise to the rock of our salvation!" Psalm 95:1
I have been a part of FBC since the age of 4 when it was a Bible Study in my parent's living room. Growing up as a pastor's kid at FBC has deeply blessed and shaped me. Not only have I seen examples of godly men and women authentically living out their faith, I've experienced such kindness and encouragement as I've wrestled with big questions, served imperfectly, and strived to grow in my love for the Lord. The solid Biblical teaching grounded my worldview and provided a framework for life. It's a privilege to still be part of FBC with my husband Jeff, our three almost grown kids, Anders, Audrey, and Caden, along with all 7 of my siblings and their families.
Over the years I've helped out with the youth group, served in women's ministries, and participated in the worship team. An organizer at heart, I love to plan events that bring people together for fellowship and encouragement in the Lord. It's been a joy to join the staff here at the office in the spring of 2020! Most of my time is spent managing the database and supporting the organizational side of ministries. When I'm not at my desk I can be found reading a book, painting in acrylics or watercolor, working in my garden, or playing board games with friends and family. Above all else, my greatest desire is that the Lord get the credit for anything good in my life. All glory be to Him!
Laura started attending FBC a few years ago when she became engaged to a life-long FBCer, Jonathan Nyhuis. Laura has been blessed to utilize her creative skills for FBC during this unique moment in time and help expand the church's reach past the congregation.
Laura runs her own video production company that has produced award-winning narrative films, soundtracks, and documentaries.
Local Outreach Coordinator
Rich and his wife BJ have been part of the FBC family for many years, though he has recently become part of our part-time staff. He has worked alongside leaders volunteering to develop local outreach programs, such as the Eastside Community Festival and the Homeless Outreach Program. He is passionate about serving those in need and he works tirelessly behind the scenes to do so.
Makayla has served in the FBC Youth Ministry as part-time admin staff since 2016. She loves discipling teenagers as they pursue a relationship with Jesus and learn to stand on His Word. Makayla also works as a portrait and wedding photographer, and you can almost always find her with a camera in hand.